Did you know, every 90 minutes, someone commits suicide?
Shocking statistics like this inspired Gary Napier from The GAP Counselling, and event organiser Rachael Wilson to set up a follow-on Charity Football Match to continue to raise awareness for men's health and so, 'The Movember Shield' was born.
Held on Saturday 5th November at Sporting Son Ferrer's 'Campo de futbol', the metaphorical fireworks were flying as 'The Yachties' took on 'The Street Angels' for the second time this season in the much-anticipated follow-up fixture from 'The Man-Well Cup'.
IBEX Insurance, Wave Uniforms and Activewear, Sandberg Estates and The Anchor Bar in Cala Major sponsored the day. D.J Des Mitchell kindly provided pre/post-match and half-time tunes. Ayesha Wood from Radio One and Steve Burge from Red Hot Branding assisted the raffle draw, receiving donations from Russell Martin Academy, Palma Jump, Gemini Salon, Med 54, Bar Rositas, The Anchor Sports Bar in El Toro and Elefante in Santa Catalina and Sant Agusti.
The match itself was another highly contested battle refereed by Chris Keenan. The game had everything: a nail-biting finale, sublime skills, crunching tackles, wonder goals, penalties, red cards and some fantastic match-winning saves.
The honours ultimately went to Allan James, Skipper of 'The Yachties', as they hung on to their lead to win 6-5 to lift the Shield Cup at the final whistle. Goal scorers for 'The Yachties' included AJ, Fabio Lima, Brad Tayler, Kyle Spargo, Radoslav Radoev and Steven Patterson. On target for 'The Street Angels'; Bradleigh White, Matteo Marcolini and a hat-trick from Rich Ford.
Interviewed after the match Gary Napier said:
"These events are growing in momentum and have attracted a wide spectrum of support from all over the island. We don't quite know where it will go, but at the moment we are proud to be involved in such a legacy event".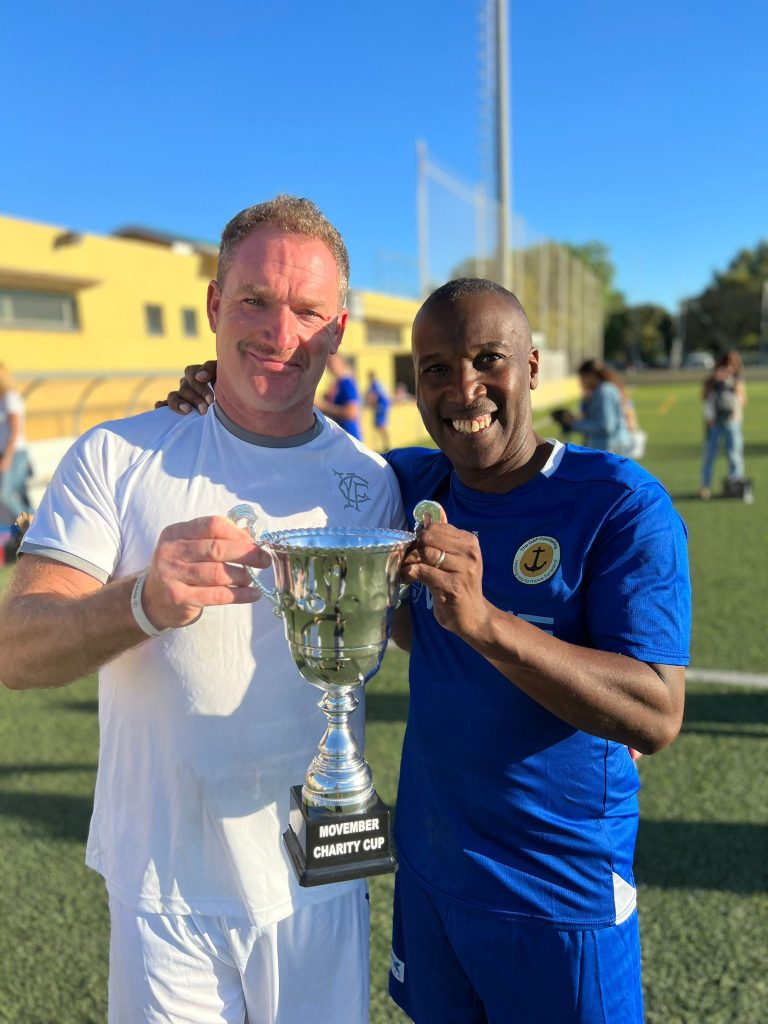 Over 800 Euros were raised for The Street Angels – providing supported care and assistance to vulnerable people on the streets of Magaluf and Yachting Gives Back – fighting hunger and poverty in Mallorca and beyond. Importantly, the day and the event continue to raise awareness of the Movember campaign and men's mental health.