If you live on this wonderful island or merely visit then you will appreciate that Mallorca is an island of music from artists singing in bars to theatres and at outdoor concerts. Something must be in the air for such a small island to produce so many singers and songwriters of such high quality. Myself and Betina had the privilege of meeting and interviewing one of the best of Mallorca, Rafa Ferra at Mindovers Academy in Jaime III. At the interview Rafa also showed us what a super singer he is giving us a rendition of a few of his songs and on Betina's own guitar. What a voice!!! An amazing singer songwriter and guitarist whose story really begins from the age of 8 years.
Born in Palma and a true Mallorquin whose talent as a singer was recognised at his school San Cagetano by a nun, so the choir became his learning stage before picking up an acoustic guitar of a friend at 15 years old. Rafa was hooked. His mother thankfully supported his desire for his guitar music but laid down strict rules. Learn classical guitar first and this he did before playing his own music, writing songs and creating his own unique style, a fusion of folk and pop. His guitar favourite, the Marten.
His mentor from afar was the legendary James Taylor and Rafa's first song he sang was the iconic song "Woman" but he wrote his own music to this song and I can tell you. It is a unique version in itself. Rafa writes with emotion and his voice is magical, sometimes playing along with the talented local Violinist Marta Elka. A truly wonderful blend and combination. His 3 albums, another in progress and tv and radio performances throughout Spain continues. Rafa has toured Spain, Latvia, with concerts in Prague and even online concerts with fans from South America who love his music style. His next concert venue is Hamburg in April and the background music he wrote can also be heard in the play "Distinto" now performing on the mainland but coming to Trui theatre on May 22nd. Famous actors and a play of great quality for sure. I saw an exert and it's excellent.
A great artist and in 2003 Rafa had what was a concert of his life as he was asked to sing with the famous Spanish singer Marta Botia in Madrid on the visit of the Pope before a near 1 million audience. Now that is something that you will never forget in your lifetime and what an honour.
As we all did, Rafa suffered with the lockdown but the music continued with Rafa singing online every other night watched Worldwide lifting spirits so often down and something different. He put speakers on his balcony and entertained the neighbours. Not only that he created a T.Shirt printed with " Meagarroalavida" which okay, roughly translated is "Grab myself into Life" Sold online with all sale proceeds given to buy food for families. A truly great concept and a person who clearly not only cares for his music, his fans but for others.
Rafa loves sports, paddle boarding in particular. His songs both in Spanish and English are memorable and Mallorca should be proud not only for the musical talent around the island, but I believe Rafa is an exception to what Mallorca can produce. So do check him out, see his concerts and listen to his wonderful voice and songs. Celebrity Magazine is proud to bring you news of island events but also spreading the word to others of artists of Mallorca and local events that sadly are not always in the main media spotlight. So do visit Rafa's website http//rafaferra.net for all news,videos plus also on Facebook and Instagram. For all your islands news please do visit celebritymallorca.es for events, articles and so much more.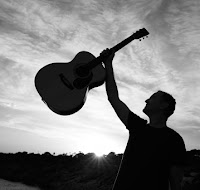 Report by David Whitney, Nargiza Rasaluva
& Betina Von Hohendorff.