Vita Bel – Mallorca
Cala D'Or – Set Sail on the Mediterranean
When luxury lifestyle blogger January Barnes decided to venture onto the mediterranean seas in Mallorca she was rather overwhelmed with choices for Charter Yachts. There were a few criteria she needed, firstly a yacht that was classic in style, a baby safe experience and an all inclusive experience with food and drinks included.
That's why when she discovered that Vita Bel the chartered yacht company in Mallorca that offered private and shared cruises along the beautiful south east coast of Mallorca. Vita bel creates unforgettable memories and perfect family yachting experiences.
To charter a yacht is a must-do activity when discovering the mediterranean. January did the "Classic" Day Charter with her family.
Vita Bel is a chartered yacht experience for even the most refined travellers wanting to explore one of the most natural and beautiful regions of the island, the Cala d'Or 'Golden Bay' Coast.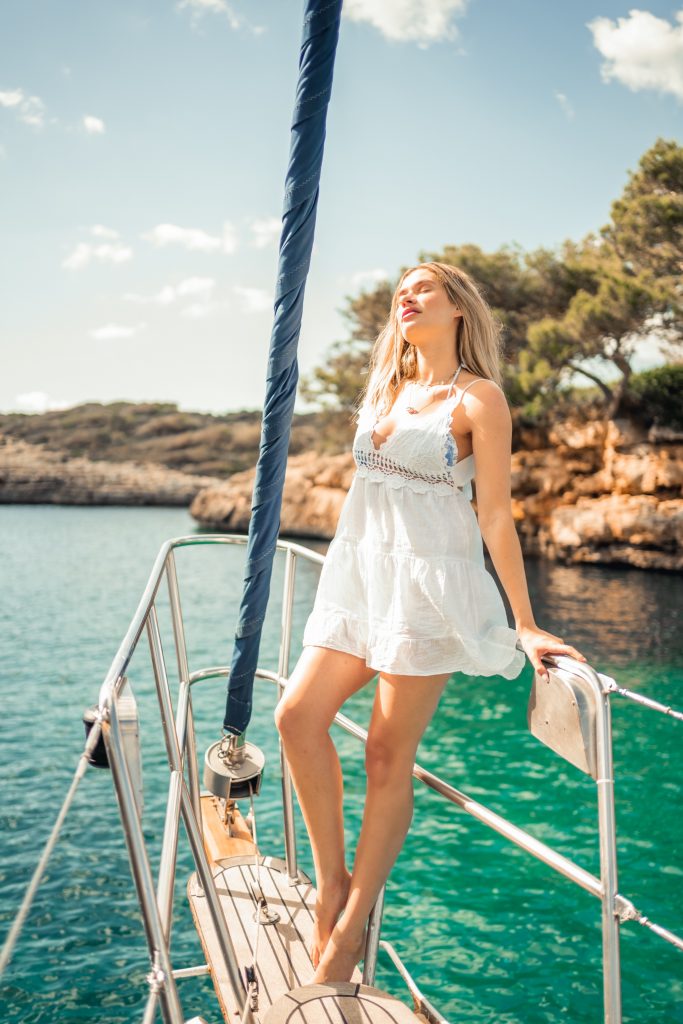 Sailing Days
January wanted to share with her January_Diaries instagram and online audience the joys of sailing with kids. It was also vital she find a kid-friendly option with all the nautical bells and whistles!
Luckily Vita Bel is dedicated to creating the most luxurious yet authentic yachting experience for all ages. From the moment she stepped on-board the yacht she knew it was the right one for her and her family. Their commitment to guests' satisfaction, happiness, safety and comfort on board were first priority.
Joining January on the yacht was also her Australian niece Indithew_, also an instagram star with 267K followers, her 2 year old son, Henley and 3 month old baby girl, Manon, in addition her husband Maximilian also joined .
Smooth Sailing
January and her family discovered this authentic and charming charter tour with the experienced Captain Nigel at the helm! Nigel is an experienced seaman with safety and comfort at the heart of every sailing trip. Not only does Nigel offer insights into the Mallorca coastline that only a true local would know he also ensures everyone is happy from start to finish.
Whilst on-board they provide professionally catered meals, premium open bar including Cava and Spanish wines, welcome photos and glass of Cava as well as stand-up paddle-boards; snorkel mask and fins.
There really isn't anything that they haven't thought of doing. Its a truly decadent and awakening experience to charter the Mallorca seas with Vita Bel.
The Vita Bel yacht itself is a charming, vintage 16-metre sailing yacht with hydraulic lifting bathing platform, deck shower and toilets/changing; disabled access to board, stair access to toilets.
As you sail around the coastline of Mallorca and look out onto the endless blue seas and golden shore lines you can't help but think this is how life should be – smooth sailing.
Sea Glamour
Voyaging onto the sea is not for the faint-hearted and neither for the faint-fashion hearted. That's why when January thought what to wear on-board the yacht she instantly knew she required glamour with a dash of comfort! She didn't hesitate to contact stylist Sabine_Zettl who has "The Fashion Room" boutique in Vienna Austria.
This maroon dress from The Fashion Room gave relaxed casual vibes with a splash of colour and opulence. Just perfect for a yachting day and with a button down front – it made breastfeeding a breeze too!
January also brought along her glam team makeup artist Makeupbyim.mallorca and photographer natamallorca_photo
Baby Manon
It was baby Manon's first time on-board a boat and as you can see she's a natural-born sailor and enjoyed every second on-board the Vita Bel yacht.
ON A DAY WHEN THE WIND IS PERFECT, THE SAIL JUST NEEDS TO OPEN AND THE WORLD IS FULL OF BEAUTY.
— RUMI