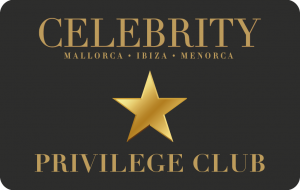 Celebrity Privilege Club Business Membership
What does Celebrity Privilege Club BUSINESS MEMBERSHIP do for your business…? In summary – we connect your business with more customers, both locals and tourists. More customers = More profits!
How it works and what do you get?
Your business will be added into our monthly newsletter as a participating member of the privilege club.

You will receive a listing in the Celebrity Privilege Club directory within Celebrity Magazine – quarterly printed edition, PHYSICAL MAGAZINE ( up to 10,000 printed copies, distributed island wide. )

You will receive promotion on Celebrity social media pages,www.facebook.com/celebritymagazineandtelevision and www.instagram.com/celebritymagazineandtelevision

We will encourage clients to use YOUR business by letting them know about YOUR special offers.

Celebrity Privilege Club window sticker

Advertisement on the Celebrity Privilege Club web page (over 25000 visitors last month alone!!)

Special prices for privilege Celebrity Privilege Club Business Members for any additional advertising on celebrity Magazine TV, https://youtu.be/Qi2SjrwLCG, Web Page https://celebritymallorca.es and in Celebrity Magazine itself.
What do you have to do to become a CELEBRITY PRIVILEGE CLUB BUSINESS MEMBER?
Simply fill in the quick and easy form below and one of our team will go through the details with you.

Offer a privilege/offer/promotion to card holders when they visit your establishment (Privileges are special offers exclusive to Celebrity Privilege Card holders, for example a hairdresser can offer a free glass of cava or a free conditioning treatment, a garage can offer free oil check, a restaurant could offer a discount or a free drink with a meal, you the business club members can decide)

A one-off payment and small monthly fee has been established in our Celebrity Privilege Club 'Supporting Local Business Campaign'.
How do clients receive Celebrity Privilege Cards and become members?
Through extensive promotion in our Celebrity Magazine, Celebrity Social Media and YouTube people can sign up for a free Celebrity Privilege Digital Membership Card.
The digital card with QR code linked to current offers will be electronically sent to the individual.
The cardholder then forms part of our database so they can receive your offers together with other local Business Members of Celebrity Privilege Club.
Simply fill in this form and one of the Celebrity Team will contact you shortly!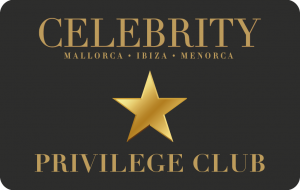 Celebrity Privilege Club Afiliación de Empresas
¿Qué puede aportar la afiliación de tu negocio al Celebrity Privilege Club?En pocas palabras: conectamos tu negocio con más clientes, tanto residentes como turistas. ¡ Más clientes = mayores beneficios!
¿Cómo funciona y qué ventajas obtendrás?
Incluiremos tu negocio/empresa en nuestro boletín mensual como miembro del Privilege Club.

Aparecerás en el directorio del Celebrity Privilege Club adjunto al Celebrity Magazine – edición trimestral , REVISTA IMPRESA (tirada impresa de hasta 10.000 unidades, distribuidas por toda Mallorca).

Animaremos a los clientes a que escojan TU negocio, informándoles de TUS ofertas especiales.

Adhesivo promocional Celebrity Privilege Club.

Publicidad en la página web del Celebrity Privilege Club (¡¡¡más de 25.000 visitas mensuales !!!)

7. Precios especiales para Empresas Afiliadas al Celebrity Privilege Club por anuncios publicitarios añadidos en Celebrity Magazine TV, https://youtu.be/Qi2SjrwLCG, Página web https://celebritymallorca.es y en la propia revista Celebrity Magazine.
¿Qué hay que hacer para ser EMPRESA AFILIADA AL CELEBRITY PRIVILEGE CLUB?
Rellena el formulario adjunto y uno de nuestros comerciales te informará de los detalles.

2. Ofertas Privilege o promociones exclusivas para socios del Privilege Club cuando visiten tu negocio (Las Ofertas Privilege son ofertas especiales exclusive para socios del Privilege Club. Por ejemplo, una peluquería podría ofrecer una copa de cava o un tratamiento acondicionador gratuito; un taller puede ofrecer una revisión gratuita del aceite; un restaurante podría ofrecer un descuento o una copa gratis….el propio negocio o empresa decidirá la oferta que mejor le convenga).

Pago de un importe único y mínima cuota mensual como parte de nuestra 'Campaña de Apoyo a las Empresas Locales del Celebrity Privilege Club'.
¿Cómo reciben los clientes sus tarjetas de socio del Celebrity Privilege Club? Promocionamos activamente el uso de la Tarjeta Gratuita de Socio del Celebrity Privilege Club a través de nuestra revista Celebrity Magazine, las redes sociales de Celebrity. La tarjeta electrónica con código QR que incluye todas las promociones y ofertas se enviará `por correo electrónico al cliente. Los datos del cliente se incorporarán a nuestra base de datos para que puedan recibir tus ofertas junto con las de otros negocios y empresas afiliadas al Celebrity Privilege Club.
Rellena este formulario y un miembro del equipo Celebrity se pondrá en contacto contigo en breve.