By Wendy Wighton Urquhart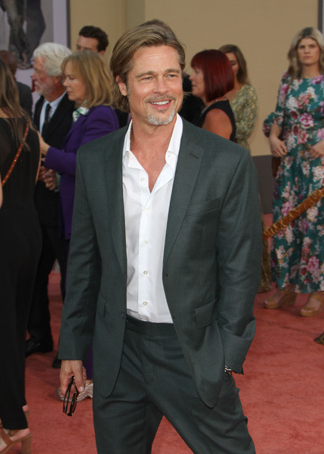 Brad Pitt, Leonardo DiCaprio and Margot Robbie are the main stars of the film, which includes cameos from Al Pacino (Marvin Shwarz), Dakota Fanning (Lynette Alice "Squeaky" Fromme), Rumer Wilson (Joanna Pettet), Kurt Russell (Randy), Bruce Dern (George Spahn), Damian Lewis (Steve McQueen) and the late Luke Perry (Wayne Maunder) to name just a few!
The red carpet was awash with 'A-Listers' and it wasn't just the women who were flashing designer duds.
Brad Pitt teamed a custom suit by David August with a white shirt and clearly preferring the casual look, he left his tie at home. Co-star Leonardo DiCaprio kept it formal in a steel blue, made-to-measure, Georgio Armani suit and tie and Margot Robbie chose to pay tribute to old Hollywood in an ivory, floor-length Chanel gown with bell sleeves gathered at the wrist, bold copper eyeshadow and Chanel accessories. Director, Quentin Tarantino also went for the classic look in a black tux and bow tie.
The huge ensemble cast of "Once Upon A Time In Hollywood" includes Margaret Qualley, who looked sensational in a Prada rhinestone mesh dress over a grey bustier and skirt and also deserves a big shout out for her stellar performance in this movie. Rumer Willis rocked the red carpet in a Lily Wrap dress from One Oak Pairam and Mike Moh opted for Emporio Armani. Sydney Sweeney sashayed in Miu Miu and Maya Hawke donned an Olivier Theyskens trouser suit, Rupert Sanderson pumps and an Epona Valley Field of Roses Crown.
Pierce Brosnan and son Dylan, Vanessa Hudgens, Austin Butler, Don Johnson, Chris Hemsworth and Elsa Pataky joined the throngs on Hollywood Boulevard and Britney Spears nearly caused a riot when a stonking great diamond ring was spotted on her left hand, but the 'Oops I Did It Again' singer and boyfriend, Sam Asghari, were quick to deny engagement rumours!!
Quentin Tarantino's attention to detail is legendary; he's a stickler for authenticity and
or this film he not only sourced radio and tv shows, adverts, props and music from the era to set the scene, he actually used some of his own memorabilia in the movie.
His obsession didn't stop there; Hollywood Boulevard and several other neighbourhoods were given a 1960's makeover with specially built façades. Spahn Ranch, which was home to Charles Manson and his followers and was once a film location for westerns and tv shows like "Bonanza" and "The Lone Ranger" burned down years ago, so the entire location was recreated from scratch, then aged to make it look authentic.
This is the first time ever that Leonardo DiCaprio and Brad Pitt have worked on a movie together and with box office takings soaring, Hollywood insiders are already betting that this partnership is a keeper. The two actors did both work on the American TV show, "Growing Pains" many, many years ago, but they never actually acted in a scene together.
"Once Upon A Time In Hollywood" is set in Los Angeles in 1969 and centres on the relationship between Rick Dalton (Leonardo DiCaprio) and Cliff Booth (Brad Pitt). Rick is a washed-up actor desperately trying to hang onto his career in an industry that's changing by the minute and his best friend Cliff has been by his side for nearly a decade
as stunt double, chauffeur, maintenance man, drinking partner and general gofer.
As Rick tries to engineer a Hollywood comeback he's racked with insecurity and self doubt and when the ultimate shame of forgetting his lines prompts an angst ridden meltdown in his trailer, Cliff picks up the pieces, boosts his pal's ego and persuades him to accept an offer from Marvin Shwarz (Al Pacino) to move temporarily to Italy to star in Spaghetti Westerns in a bid to boost his bankability.
Sharon Tate (Margot Robbie) and her husband Roman Polanski (Rafal Zawierucha) live next door to Rick in Cielo Drive in the Benedict Canyon neighbourhood of LA and
we get a taste of their lifestyle during scenes at the Playboy Mansion, which, back in the day was the place to be; including it in the film was genius, it highlights the glamour of 1960's LA and portrays Sharon Tate as part of the popular Hollywood set.
When they return to LA, Cliff drops Rick at the studio, collects his own car from Cielo Drive and is planning to head home to his trailer, but on the way he spots a young girl he saw hitching a ride at the bus stop earlier with her friends. Now, Kitty Kat (Margaret Qualley) is hitching alone so he agrees to take her back to Spahn Ranch where she's living with Charles Manson and the other disciples, but things don't exactly go as planned.
The rest of the movie unfolds in classic Tarantino style and showcases some of the best acting I've ever seen from Brad Pitt, but to find out what happens next you'll have to go and see it!!
"Once Upon A Time In Hollywood" is currently playing at several cinemas across Mallorca; check your local listings for details.
See the latest copy of Celebrity Mallorca Magazine 'OUT NOW' for more pictures with this story.