Anyone who has ever discovered the Hammam-experience in one of the Arabic-Andalusian baths in Palma, felt the journey of water, massages, rituals that allow you to get in touch with your inner nature. When we arrive home, we enter the sober world of our own bathroom. We usually have a 5 square meter, functionally furnished bathroom that doesn't create a feel-good atmosphere even with candles and aroma lamps. But there are a variety of solutions to convert your own apartment into a wellness area.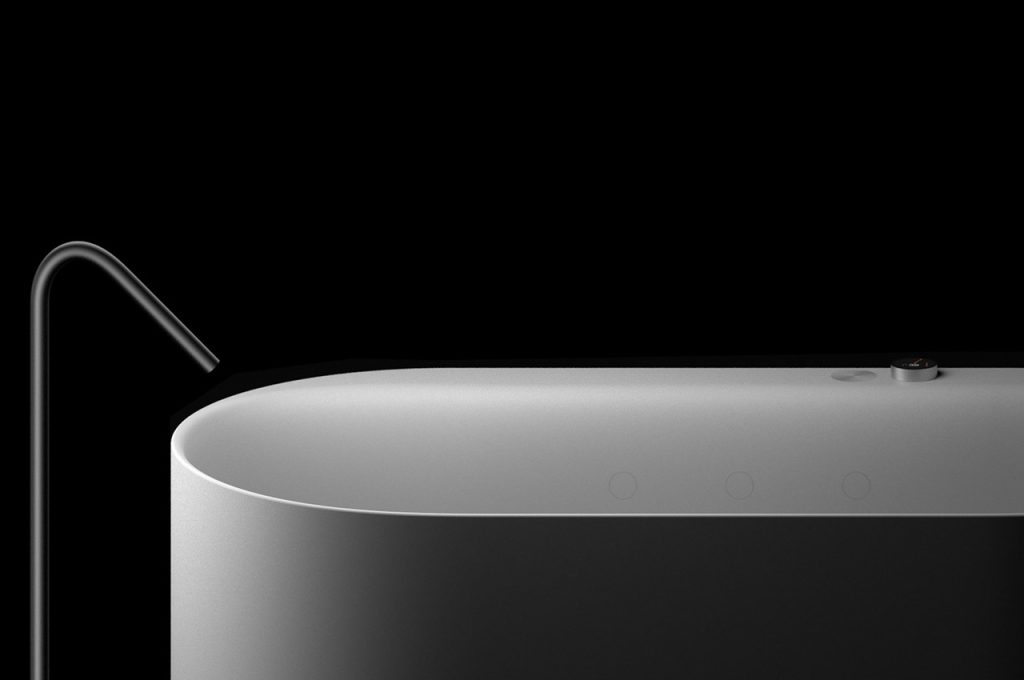 Imagine coming home after a long, exhausting day and being welcomed by a bathtub that has already prepared itself just the way you like it. No more fiddling with knobs and dials or waiting for the water to reach a perfect temperature.  The bathtub doesn't just offer a bath; it provides a personalized massage experience, which is learned from your preferences over time. 

This means that every bath you take becomes a tailored and blissful activity. By analyzing your past bathing sessions and adjusting their settings accordingly, the embedded artificial intelligence addresses specific areas of discomfort. Whether it's tension in your shoulders, aching muscles in your lower back, or simply the desire for an overall comforting soak, this Smart Bathtub has you covered at the twist of an onboard knob or via a connected smartphone. 

Undeniably, this is not an ordinary bathtub; it's a glimpse into the future of relaxation and pampering. It's a testament to how AI can seamlessly blend with design and comfort to create a truly luxurious experience in your own bathroom. Further image you have a sauna in the size of a closet in your bathroom.The S1 model from Klafs offers in 20 seconds
Deceleration, relaxation and deep well-being are possible even in the smallest of spaces. 


Whether it's a study, hallway or guest room, whether in a large house or a small apartment. The Sauna S1 can be operated with a normal 230 V connection. As we've grown older and life has gotten super hectic, bathtime is that precious hour of the day when we can fully indulge in self-care, and pamper ourselves – whether that's in the form of a bubble bath or a long warm shower, having a beautifully designed bathroom with thoughtful designs will only amplify this special time of the day. 

The right selection of bathroom fixtures and products makes a huge difference to your everyday bathroom experience especially with a  Bamboo Tap - the roots were hand-selected  and then curved into shape using hot bending techniques. 

After that, it is treated to become waterproof, and then the functional plumbing elements are integrated into the hollow bamboo tube. The tap is created with immense precision and attention to detail, quite similar to the care and concern given in the manufacturing of high-end fashion accessories.
When renovating or designing a bathroom, the toilets can be categorized into wall-mounted and floor-mounted WCs. Just like any other fixture or finish selected for new home renovations, toilets come with considerations concerning aesthetics, ergonomics, cost, installation, and maintenance. The choice of wall-mounted or floor-mounted toilet bowls is crucial because it determines the layout of the plumbing. With so many options on the market, choosing the right one can be confusing. 

Learn the pros and cons of floor and wall toilets, then choose the one that's right for you. Note that the primary difference between a wall-hung and a floor-mounted toilet is that the tank of a wall-mounted toilet is situated within the wall.. The floor-mounted toilet - these toilets, the tank is visibly separate from the bowl which is connected directly to the floor and they are securely bolted to the floor for stability. There are generally two types of floor-mounted WCs, an all-in-one is available that combines the flush tank and bottom pan in one and there is a two-piece option, which has a bowl to dispose off the waste and a separate tank to hold the rinse water that is assembled during installation. The two-piece option has two versions to choose from, there is a single flush option that uses the same amount of water for all types of waste and there is also a dual flush option that offers two rinse options to help save water.A wall-mounted WC is fixed to the wall and no part of the WC touches the floor where the cistern is integrated into the wall cavity which houses the plumbing lines. It comprises four sections namely the wall tank that is hidden inside the wall, a flush actuator to control the flow of water, a bowl, and a seat.

In addition, it incorporates a carrier in sturdy steel that provides adequate support to the tank and it anchors the bowl. To conceal the carrier, a secondary wall known as a ledge wall is constructed in the bathroom. The best part about wall-mounted toilets is that they do not require a drain in the floor like traditional floor-mounted toilets, making their installation simpler without the need for cutting into the floor. There are many possibilities. You can also install a whirlpool bathtub, an infrared cabin or a steam shower. In one of the next columns I will take up the topic again with refreshing new ideas for your bathroom.