We often question art. What is art? To some it is a masterpiece of a classic landscape or of a figure. It may be a sculpture made of wood, wire or stone. It may be what many see as an array of paints thrown together on a canvas or another material. That is the beauty of art. It opens the mind, it can stimulate the mind and to some it shows something different to that of another. I am no art expert. That I am sure you can see, but my thoughts of art vary and I am certain that I am not alone. I love the old masters, the wonderful scenes, of say Venice, the countryside of England or the modern interpretation of scenery, of people and of abstract.
I am open minded on all art and on this island we have artists that can satisfy all our desires and bring joy to all our homes. All around the island, in the galleries of Palma and in small studios we can all find art to please and to purchase.I am going to explore the World of art, the artists, the galleries and the exhibitions this year and Celebrity magazine will bring you into the many aspects of art and the artists that live on this island.
I am delighted to write this article on what was a superb private exhibition that I was invited to attend a few weeks ago. Yes, it was open to all, but private. It was held at what one can only describe as a beautiful rustic Finca just outside of Santanyi.It was described as a Group exhibition. Do attend such exhibitions as you meet wonderful and interesting people to mingle and talk with. For me, I wish I had the talent of those who create the different pieces whether in paint, or as a sculpture. This small exhibition showed works in not only a wonderful setting, but in the rooms throughout the Finca and sculptures outside.The exhibition held over 3 days featured artists Shobhana Tyroller, Rainer Jager, Sabine Endres, Anjali de Bellefroid whose mother owns the Finca, Eva Leutz and my good friend Mani Tyroller. Anjali now lives in San Francisco but has works on the island and was visiting the family. A true, what I call abstract painter with colours that make your senses react. For Shobhana, her art is her refuge of peace and the music of the seas, meditation in her paintings and her stream of life. A wonderful way to describe her pieces. Anjali, brings us colour and vibrance to her work. What a talented family.
It was a delight to be shown the pictures in the rooms of the Finca and to meet with Sabine who lives in Santanyi and Cologne who creates the most beautiful artwork of natural colours as well as sculptures from wood and wire. You cannot describe the pieces. They need to be seen for sure. Rainer another artist showing, creates wood and marble sculptures amongst other materials standing in some cases more than 2 meters high. Eva, and Mani himself are also unique in the creation of their own sculptures with different materials. What a display and exhibition to attend.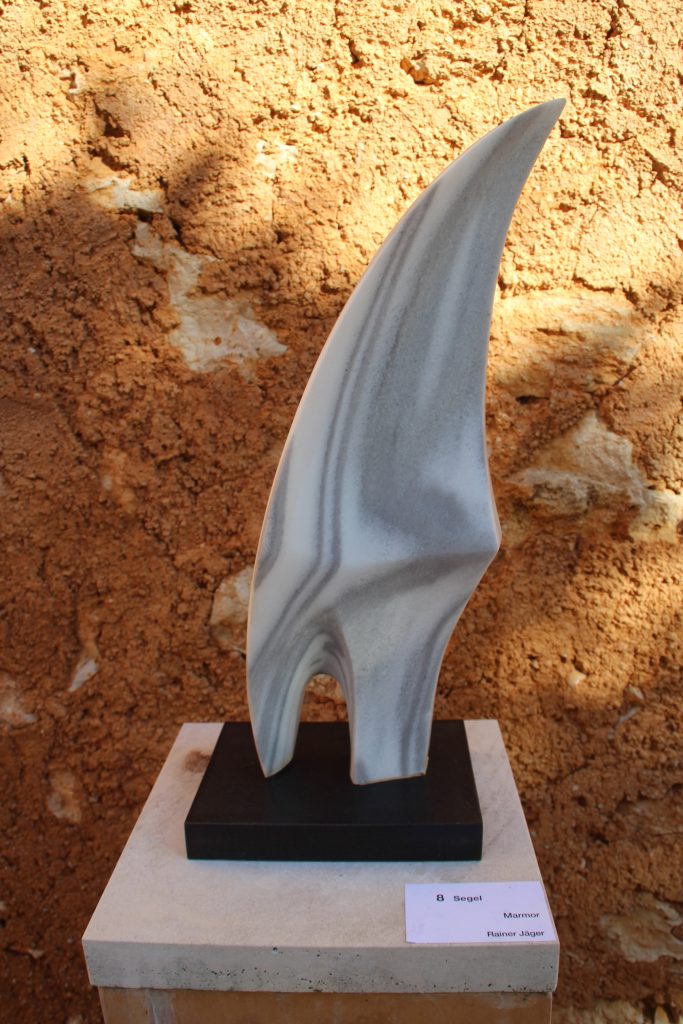 With visitors throughout each day, snacks, drinks, friendliness and interacting with the different artists made for a day to savour. How I wish my house was large enough to hang some of those pictures on the wall and have a garden that could bring more life to it with some of the sculptures that I saw. The day was of blue skies and the sun shone down on the rooms making each picture even more vibrant. I believe that more exhibitions are planned at the Finca and I shall do my best to cover more and let all know the dates in advance. However, do visit the websites of all the artists and see for yourself what they are bringing to us. Art is subjective in many ways and with each exhibition I attend the more I am becoming an art lover respecting the talent found on this small island.
So my day came to an end. A day of learning, making new friends, enjoying snacks and yes, my love is photography but how I wish that I had the talent of those that I met at the Group exhibition at the Finca in Can Cordella, Santanyi. Celebrity Magazine is indeed diverse and 2023 will bring all our readers so much more in event coverage, exhibitions, interviews, local events and show all, tourists, and locals alike that Mallorca has so much to offer other than sun, sea and beaches. So please do visit our website at www.celebritymallorca.es and also read the online magazine at https://celebritymallorca.es/magazines/celebrity-issue-129/
For more details then please do contact us as we welcome your feedback and to discuss advertising with Celebrity magazine. Enjoy. David Whitney